Ema Zivkovic is a biologist with an MSc in microbiology.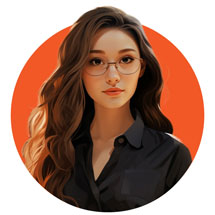 Ema has done her graduate studies at the Faculty of Biology, University of Belgrade, in Belgrade, Serbia. Her master thesis was focused on the diversity of microorganisms in the rhizosphere and phyllosphere of olive trees in Slovenia and the antifungal activities of isolated bacteria (primarily Bacillus and Pseudomonas), for the purpose of protection of olive trees from phytopathogens.
Ema has also done a four month internship at Professor Henry Kwok's laboratory at the Faculty of Health Sciences, University of Macau, Macau. Her internship was about research of potential tumor markers for ovarian cancer.
Besides writing articles for Mold Busters, Ema is currently working as a microbiologist and laboratory analyst at the Department of Biocides and Medical ecology (Zavod za biocide i medicinsku ekologiju) in Belgrade. She is part of the laboratory in charge of performing PCR tests for Covid-19, Borrelia burgdorferi and the West Nile Virus.
Research Interests:
Microbiology
Mycology
Molecular biology
Biological control
Biotechnology
Invasive biology
Pathology
Ecology
Entomology
Ornithology
Professional skills:
DNA and RNA extraction, PCR, Western Blot, microscopy, antimicrobial testing, phylogeny analysis, other microbiological methods, field work; team work and team management, computer skills
Education:
2020 – University of Belgrade, Faculty of Biology, Graduated with a Master's Degree in Biology, Field: Microbiology, grade average: 10/10.
Master thesis title: "BMicrobial diversity of the olive tree phylosphere and rhisosphere and selection of bacterial antagonists for biocontrol of phytopathogen fungi"
Experience working with various fungal and bacterial (primarily Bacillus and Pseudomonas) species
2018 – University of Belgrade, Faculty of Biology, Graduated with a Bachelor's Degree in Biology, grade average: 9.23/10.
Articles