Jelena Somborski is MSc in biology, majoring in microbiology.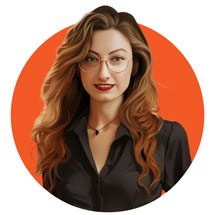 Jelena obtained graduate studies in biology at the Faculty of Sciences Novi Sad, Serbia. Her graduate thesis was focused on the study of the antimicrobial activities of extracts of lignicolous fungi.
Jelena earned her MSc degree at the at the Faculty of Sciences Novi Sad, Serbia, at the Chair of Microbiology of the Department of Biology and Ecology. Research presented in her MSc thesis was focused on evaluation of different methods for estimation quality of drinking water.
Research Interests:
Microbiology
Mycology
Bacteriology
Medicinal plants
Miedicinal fungi
Professional skills:
Sanitary microbiology, industrial microbiology, veterinary microbiology, microscopy, diagnostic biochemical tests, antimicrobial susceptibility tests, testing of chemical disinfectants, freeze drying, protein extraction and purification techniques, SDS-PAGE electrophoresis, ELISA tests, Bradford method, TLC chromatography, spectroscopy.
Education:
2008-2009 MSc of Biological Sciences. The University of Novi Sad, Serbia, Faculty of Sciences, Department of Biology and Ecology
2001-2007 BSc of Biological Sciences. The University of Novi Sad, Serbia, Faculty of Sciences, Department of Biology and Ecology
Work experience:
2015-2021 Analyst in Microbiology Laboratory
BB MINAQUA NOVI SAD – DEPARTMENT BIO-ECOLOGICAL CENTER ZRENJANIN, SERBIA
Microbiological food, feed and water control
Results interpretation and writing reports
Organizing work of the Microbiology Laboratory and supervising the quality management system
Synchronizing work with other departments
Performing susceptibility tests on microorganisms isolated from plant and veterinary samples
Testing wide range of biological and chemical disinfectants and biocidal agents
Analyst in Research & Development Department
2013-2015 Analyst in Development Sector
BIO-ECOLOGICAL CENTER ZRENJANIN, SERBIA
Participation in planning and performing pilot-scale and large-scale production of microbial insecticides: developing media for large scale bacterial cultivation, examining the nutritional requirements and process parameters to enhance production process and improve biocidal efficiency of the product
Preparing inoculum for biological biocides production
Microbiological and chemical control of biocidal products
Freeze drying, SDS-PAGE electrophoresis and analysis of gels; performing ELISA tests and results interpretation
2008-2009 Volunteer Researcher in Microbiology Laboratory
THE UNIVERSITY OF NOVI SAD, SERBIA, FACULTY OF SCIENCES, DEPARTMENT OF BIOLOGY AND ECOLOGY
Microbiological quality control of food and drinking water
Monitoring the microbiological quality of surface waters
Determining of enzymatic activity and assessment of chlorophyll concentrations in surface water samples
Extraction of biologically active substances from plant and fungal material
Testing antibacterial and anti-fungal activity of crude extracts
Articles